Your Extra Hand!™ Fence Rail Clamp Tool™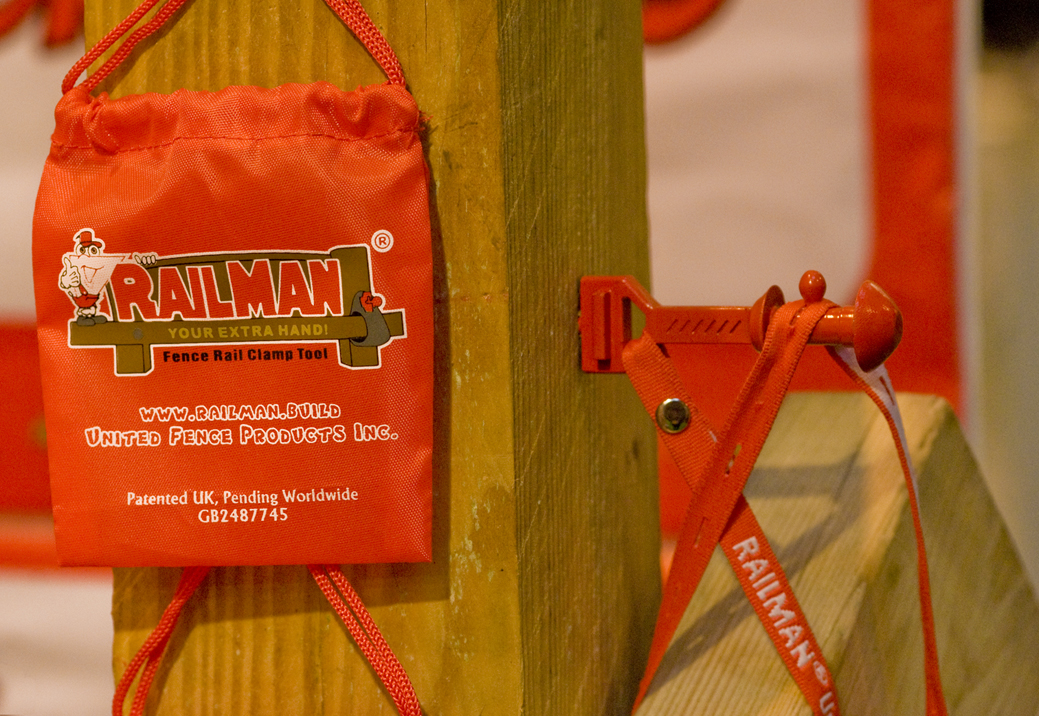 The perfect device to help you put up fence rails, particularly on post and rail fencing and featheredge fencing!

Whether you're a tradesman, contractor or DIY'er, one person working alone can now install a 12ft rail between two posts in a safe and accurate way, on their own and without any help, thanks to this baby!

It doesn't matter how high or heavy the rail is or how tall you are, Railman® holds and suspends the rail for you, bears all the weight of the rail and frees up your hands so you can work on fixing the rail in place whilst it is safely suspended – you can even leave it there dangling whilst you have your lunch!

This is so easy to use – just hammer the Railman® in place on the post slightly above where you want the rail to be fixed. Simply hold up one end of the rail and wrap the Railman's strap around the rail and tie it off on the body of the Railman® to suspend the rail. Once you've fixed the rail, simply lever the Railman® out of the post with your hammer by slipping the claws of your hammer over the patented extraction means built into the Railman® and then on to the next section of fence – EASY! Railman® can even hold your tape measure for you to help you accurately measure the length of the next rail!



can also be used to suspend other beams or on other applications where you need an extra hand such as building lean to's, sheds, car ports etc.



is an essential addition to your tool box!

Only real men use



Pics and vids coming soon!

Patents: GB2487745, GB1416515.3, US13/751 174, also filed AU, CA, EU.

Railman® 2017 Update:

Stage 1 Complete – 1 UP Blink Blink!

Testing Video: I've now successfully completed the product development of the new Railman® tool. It now works perfectly! The previous issues have been ironed out and you can now watch the new testing video – to be uploaded shortly.

The previous issues were: 1. the tip snapping off upon extraction, 2. overall size of the body hindered operation of the hammer as a means of extraction, 3. colour coating and packaging for retail.

The colour coating and retail packaging are still in progress and I expect to finish this next year before I launch the Railman®.

Watch the video – this tool is a beaut – you'll be impressed!

Video to follow shortly. Folks – please bear in mind this is the first video I've ever made and is far from perfect and not in any means a new promotional video – this is just to demonstrate the working Railman® and to show you what's to come!


JULY 2015 Update

We have now almost come to the end of our extensive four years of testing and had to make some final slight adjustments to the tip of the Railman® tool to reinforce it. We had to make some mods to the extraction lugs to make extracting the Railman® very swift and a clean sweep of the hammer without much effort, and we had to make some dims changes to the sizes so that you can use almost ANY hammer to extract the Railman®.

Whilst still not quite yet available we should have the final version ready to sell 2016 and for only £9.99 - £11.99!! This is well below the cost of employing help!

There will be some revised marketing, advertising videos and product use videos, but we've been reluctant to begin anything until we have the final version ready for you.

Testimonial: As a tradesman I used this little beast to install 180ft of railing in 90 minutes on my own! ON MY OWN !!! This tool is unbelievably sweet!