The New & Easy Way to Insulate Your Roof!
Our new insulation retaining clips, provide you with the easiest, simplest way to secure insulation between your rafters. Rafterclips® help you to reduce your heating and energy bills, (through improved energy efficiency of your home after insulating your rafters), whilst keeping your home snug and warm throughout those cold winter months and, the beauty of it is: they're simple to use: - Just nail them to your rafters and push your insulation in behind them - how easy is that!
Keep Your Warmth Between The Rafters!
™
RafterClips®
are available in several types for different purposes:

Y clip™

For retaining soft flexible insulation such as Sheep's Wool and fibre glass or insulation made from recycled plastic bottles etc.

PATENTED

Y Clip™ Long

NEW Coming 2016

A NEW improved version, the Y Clip™ Long has an extended shaft and locator lugs for faster fixing! Patented GB with more patents and designs pending.
Come back soon!





IMAGE COMING SOON
The Y design has teeth at the end of both forks to give that piercing snakes tooth like grip and to tightly retain the insulation.

Flattie™

For retaining acoustic boards for sound insulation. Sound insulation is generally thicker and not as flexible and so no teeth are needed on the clip.


DESIGN RIGHT
We recommend trying to use insulation that is from a renewable resource; save the planet and all that.

Straight™

The Straight™ Rafterclip® is for pinning compressed board insulation between rafters and studwork and the teeth bite down into the board to prevent movement when air from the breathing gap, felt side of the board, blows across the back of the insulation.

Simple to use as always, either: put the insulation in between the rafters and tack or screw the clip to the rafter and overhanging the insulation OR put your insulation in, put the clip over the top and tack it to the rafter so that as it is fixed in place the teeth bite down into the insulation.

Updates July 2015

We have now created a newer version of the Straight™ one and incorporated a means to hold your insulation from both sides of the board to maintain the breathing gap and to make it even easier to fix ! Patents pending, designs complete and prototyping in progress - finished and ready for field trials early 2016.


PATENTED

JawClip™

NEW Coming 2016

Our NEW JawClip™ will help you to quickly and easily install insulation board between rafters and studwork. What's NEW and AMAZING about the JawClip™ is that you no longer need to install backing battens - this little baby automatically sets the air gap for you and holds the insulation in! Ultra lightweight this piece of roofer's heaven takes all the frustration out of installing insulation! Come back for news! Patents and designs filed.






IMAGE COMING SOON

JawClip Adjustable™

NEW Coming 2016

Almost the same as our JawClip™ the Jaw Adjustable™ easily adjusts and adapts to different thicknesses of insulation. A little bit more expensive than the JawClip™ but more universal. Patents and designs pending.
Come back soon!





IMAGE COMING SOON
Both the JawClip™ and Y Clip™ long version now have locator lugs to help you easily push the fixing into place and keep it there whilst you screw or tack it in place - just a little extra to help speed up the fixing process!
The longer straight retaining teeth will pin the board in place and stop it moving and rattling around if it is cut slightly too narrow, or from winds circulating in the loft / attic.

BatClip™

NEW Coming 2016

The BatClip™ works the same way as the JawClip™ but it fits over two sides of the rafter and is a symmetrical version so you only buy one clip instead of two! However you will still need a JawClip™ for ends or only one side of your rafter or studwork. Patents and designs filed.
Come back soon!.






IMAGE COMING SOON

BatClip Curve™

NEW Coming 2016

Same as the BatClip™ but with built in curves to go around cylindrical objects such as tubes, pipes, poles etc. Patents and designs filed.
Come back soon!.




IMAGE COMING SOON
So if you need your loft insulated - buy some of our fabulous RafterClips® and get on with it - should be a day's work, with time and money well spent!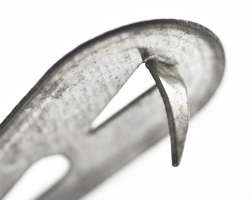 PATENTED
If you're unsure, watch the video tutorials to see how easy it is!
Pack Sizes and Pricing
:
All types of RafterClips® come in packs of 25 and 100 and tubs of 250, 500 and 1000. The average loft space of 50 sq mtrs /150 sq.ft. You will use approximately 200 clips to do the job but they'll last at least the lifespan of the insulation!
Y Clip Retail Prices:

Straight & Flattie Retail Prices:

25 piece pack - RRP £5.99

100 piece pack - RRP £21.99

250 piece Tub - RRP £49.99

500 piece Tub - RRP £89.99

1000 piece Tub - RRP £175.00

25 piece pack - RRP £4.99

100 piece pack - RRP £18.99

250 piece Tub - RRP £42.99

500 piece Tub - RRP £83.99

1000 piece Tub - RRP £160.00
Trade discounts are available for larger volumes when ordering direct, or ask your local stockist for a trade discount. We may introduce special offer vouchers that you can download and take to your nearest stockist who will redeem them with us. Keep an eye on the Special Offers Page on the left.
Whilst we are still in early stages of getting this range of products out there, we will accept orders directly if there is no stockist in your area. Please find our details on our Contact Us page. We require payment with your order which is accepted through NoChex - a safe and secure online payment processing service. Click your country flag above to find a stockist and the NoChex logo on the left for details.